"Songetry" songwriting workshop with Joe Craven
Joe Craven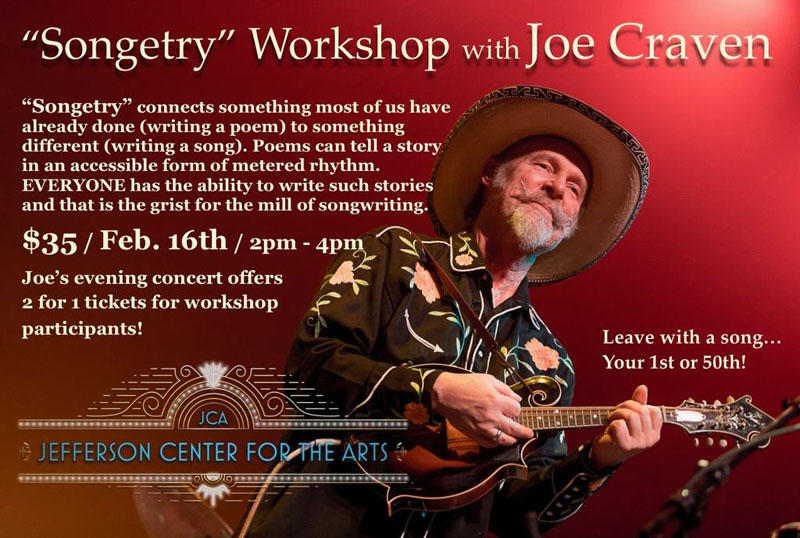 Sunday, February 16, 2020
2 - 4 PM
$35
This fun and engaging workshop will give you tools to be the songwriter you always wanted to be. Ages teen & adult.
"Songetry" connects something most of us have already done (writing a poem) to something different (writing a song). Poems can tell a story in an accessible form of metered rhythm.
EVERYONE has the ability to write such stories and that is the grist for the mill of songwriting.

Leave with a song... Your 1st or 50th!

Buy a ticket for the workshop online and you'll be able to add 2 tickets for the price of 1 for the evening concert!
Joe Craven is a multi-instrumental, award-winning creativity educator, former museum curator, actor, music festival emcee, Director of RiverTunes and Vocáli Voice Camps, a Co-Director for the Wintergrass Youth Academy and a fashion insultant. Joe Craven's love of performing music has put him in many musical genres and alongside many musicians, from Jerry Garcia, David Lindley, Howard Levy, to Jason Marsalis and banjoist Alison Brown. For 17 years, he was percussionist / violinist for mandolinist David Grisman.
Under his own label, Blender Logic Arts, he has recorded and performed his wide variety of roots music projects. Joe also enjoys a fine reputation for his unique emcee work at music festivals and other art events for 20 years.
As an educator, Joe's unique outreach programs have inspired communities in Costa Rica, corporate heads in Contra Costa, a dozen different music camps, thousands of school kids from Stockton to Scotland and college students from Alaska to Alabama. From Morocco to Mendocino – and performing solo, or in one of his many projects – whether he's in Carnegie Hall or busking on Cannery Row – Joe's at home and loving every minute!