Lorin Sklamberg (Klezmatics) with Sasha Lurje and Craig Judelman
music performance
~ PAST EVENT
Lorin Sklamberg, Sasha Lurje & Craig Judelman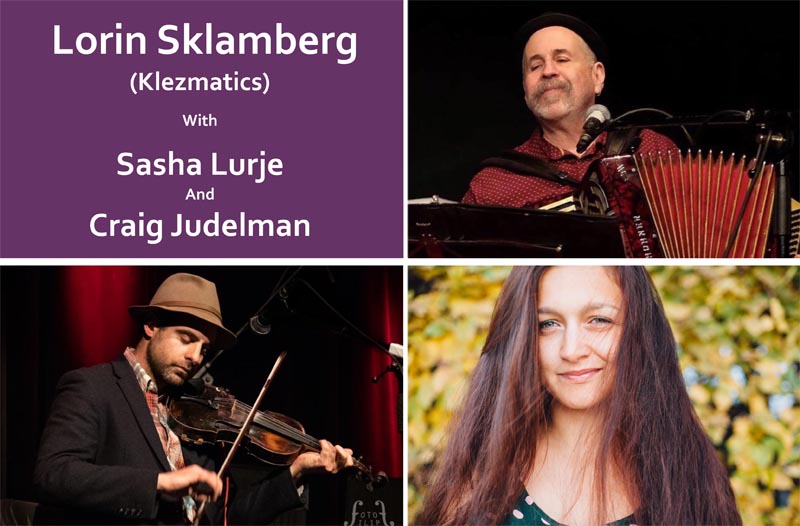 Friday, February 21, 2020
7 - 9:30 PM
Klezmatics' lead singer and accordianist Lorin Sklamberg brings an unforgettable night of Yiddish music with Latvian singer Sasha Lurje and violinist Craig Judelman.
Featuring the voice of the Klezmer revival, co-founder of the Klezmatics, Lorin Sklamberg (NYC) and established darling of the international Yiddish scene, Sasha Lurje (Latvia/DE), this new transatlantic collaboration presents an enchanting evening of Yiddish songs and dance music.

From old folk ballads to rousing Yiddish theater and the golden age of the Lower East Side, these two pillars of the contemporary scene give an insiders tour of your favorite songs you've never heard. They're joined by fiddler Craig Judelman (USA/DE), whose deep background and natural familiarity with old time American music (Jewish and non) provides the perfect counterpoint, along with Mr. Sklamberg accordion, for these two voices. This small all star band packs a big punch, charming audiences with the stories of the Ashkenazic experience that range from intimate to revelatory.

This concert is much more than a collection of songs - the performers are also skilled storytellers, using the songs to give the audience a greater understanding of the culture and context that created them.