JCA Comedy Night with Sam Miller
comedy performance
~ PAST EVENT
Sam Miller, Freeway Farrell, Mike Sparks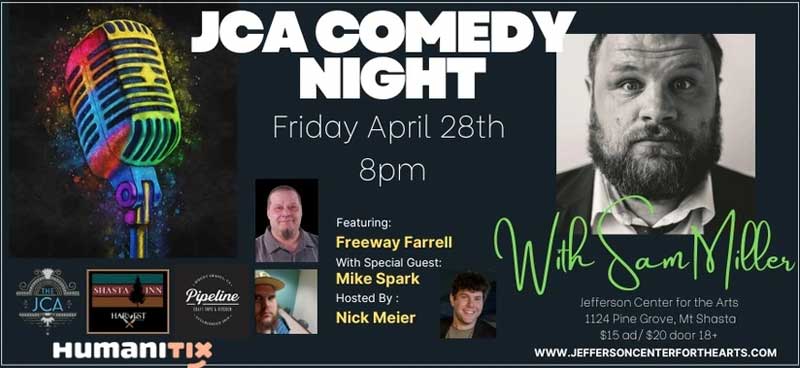 Friday, April 28, 2023
8 - 10 PM
Join us for some hilarious comics at JCA COMEDY NIGHT with headliner SAM MILLER, featuring FREEWAY FARRELL, with special guest MIKE SPARKS.
Sam Miller is a comedian from Olympia Washington. He is 6 foot 6, 360 pounds, has 2 kids, (one of them is on purpose) he's been married for 11 years, and has been clean and sober for 14 years. Sam likes to make jokes about what it's like to be a sober parent. He also likes to make jokes about what jails like in Yakima. His first album and special, Round Trip, was recently recorded and filmed under the tutelage of Grammy-winning producer Dan Schlissel, whose indie label, Stand Up! Records, Sam had recently signed a three-album deal with. Sam was the runner-up in the 2021 Seattle International Comedy Competition and won the Comedy on Trial Competition in 2017. He's also performed with the Addicts Comedy Tour and at NA and AA conventions all over the northwest. For 3 consecutive years he won awards in "The Best of Olympia" issue of the Weekly Volcano. 2016 Best Local Hero 2017 Best Local Celebrity 2018 Best Comic Relief He has opened for Nate Jackson and Laurie Kilmartin and is regularly performing at clubs and casinos around the country.

Freeway Farrell has always been in the entertainment business. He began his career thirty-five years ago in high school as a Disc Jockey at a roller rink. He then hosted his own weekend time slot as a DJ at a local radio station. This later led to traveling the country while working as an on-air personality for various radio stations, whilst he also maintained a regular spot in the local stand-up comedy scene. Over the years, Freeway has been a comedy producer. Frequently requested Emcee, voice over actor and a colorful character actor. These days he has retired from radio and producing shows. Since 2016 he is now an active full time stand-up comedian, comedy writer, emcee and promoter. Freeway does comedy promotion work as a side hustle through his company Farrell Boys Promotions, to help the comedy community. As a standup comedian, Freeway has a deep passion for performing. He has three different sets, each an hour long. All sets can be performed clean, PG-13 or blue.
Freeway looks forward to performing for you.