JCA comedy night with Morgan Anderson
Morgan Anderson, Gabby Jesus, Jonathan Zadok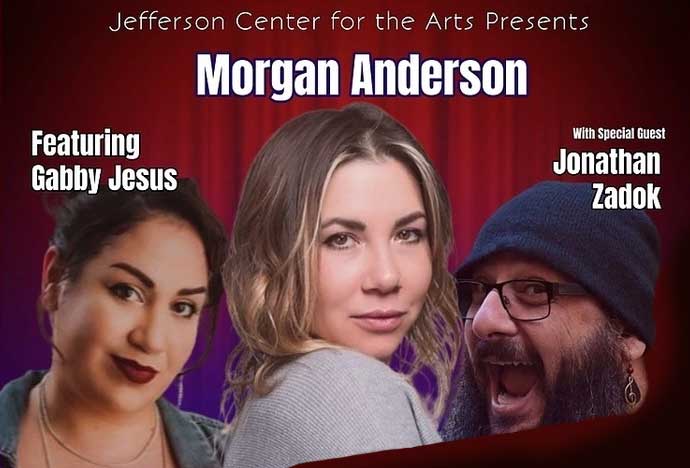 Friday, June 16, 2023
8 - 11 PM
$20 at venue / $15 adv online →
All profits from ticket fees go to children's charities.
JCA Presents COMEDY NIGHT with Morgan Anderson, featuring Gabby Jesus and special guest Jonathan Zadok
MORGAN ANDERSON is a fiery comic who weaves creative storytelling with hilarious social commentary. Her background in news writing, tech, and film production help her to create dynamic imagery and connect with her audience. Her dark comedy is highlighted by a dry wit and biting sarcasm. When she's not on stage verbally examining her weird pubes and childhood trauma, you can find her at home, sitting on her bed in a towel, trying to figure out which workout leggings to wear. She's performed in clubs all over the country, from the Tacoma Comedy Club where she opened for Nimesh Patel, to the Tiny Cupboard in NYC, to The Comedy Store in LA where she opened for Doug Stanhope and Annie Lederman. She most recently featured for Rich Vos.

GABBY JESUS exudes all the warmth, humor and bonhomie a person could want in a bartender. Stationed behind the counter in the cozy confines of The Vintage on Lincoln Street, Jesus — who goes by Gabby — says she's passionate about the drinks she makes, but even more so the people she serves."I am people-curious," she says, adding that the most important aspect of serving the public is making eye contact. "Especially if the bar is really busy," Jesus says. "If you just kind of ignore them, it pisses them off."A California transplant, Jesus says she fell in love with Eugene after moving here three years ago from Watsonville, near "the salad bowl of America," she notes. "I love the entertainment scene around here," she says. "Everyone's kind here, too, comparably."It's that "comparably" that reveals Jesus' sly wit, which she's translated into a gig as a local stand-up comic — something she started pursuing after she started working at The Vintage. "Making people laugh, it's great," she says, describing her brand of comedy as "blue humor" derived from "real-life" stuff like motherhood. She nods to Bill Hicks and Sarah Silverman as two of her favorite comics.

JONATHON ZADOK from Mt Shasta is a highly trained actor and comic armed with a guitar.
Comedy Night