Shasta Taiko & Goh Kurosawa - JCA WMF
Shasta Taiko & Goh Kurosawa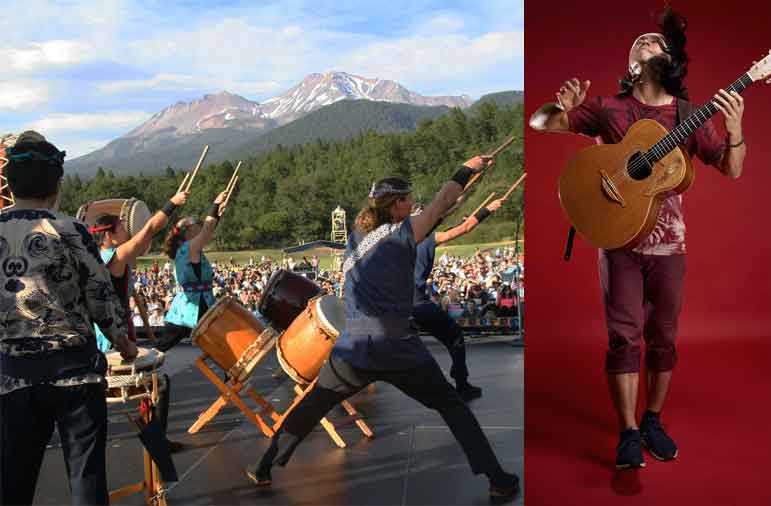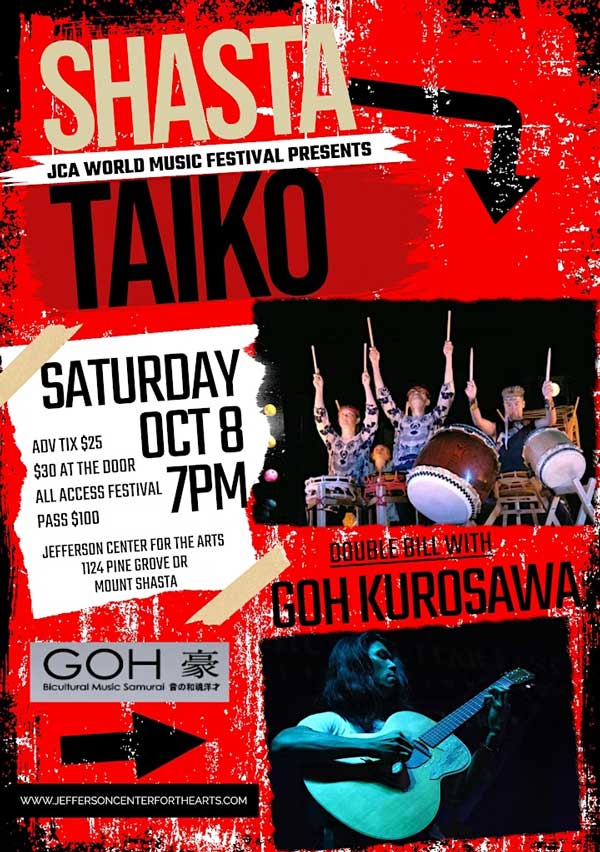 Shasta Taiko

Shasta Taiko was founded by American taiko (Japanese drum) pioneers Jeanne Mercer and Russel Baba in 1985. Shasta Taiko has taught hundreds of Siskiyou County children and adults, exposed taiko to thousands through various performances, and presented leading American taiko artists at ShastaYama (2005-2016), the largest outdoor taiko festival in the country.

Shasta Taiko's performances present original taiko compositions, some based in Japanese traditions and others from American, world, and modern influences.

"Shasta Taiko...pushed the bounds of traditional music, bringing a new creativity that will carry taiko into the next generation...fashioning a new cultural and artistic tradition." - Anchorage Daily News

"...original arrangements of traditional taiko rhythms...individual solos of impressive complexity and imagination amid a clean, well crafted ensemble texture." - San Francisco Chronicle

"...what started as a casual band of family and friends in 1985 has mushroomed into Shasta Taiko...spreading a thunderous message of festivity and harmony." - Los Angeles Times

"Their (Shasta Taiko) performance was a powerful, yet very gentle, call for peace and understanding." - Nikkei West

Shasta Taiko has received national attention with "Shasta Taiko," a documentary that won a Cable "ACE" award, and featured in documentaries, "The Spirit of Taiko" and "Big Drum."

Mercer and Baba started taiko in 1972 with San Francisco Taiko Dojo and Grand Master Seiichi Tanaka. As a member of Taiko Dojo, Jeanne toured worldwide and contributed to movie soundtracks "Star Wars" and "Apocalypse Now." Russel has recorded, performed, and toured on saxophone and flutes playing original music with jazz artists pianist Andrew Hill, violinist Michael White, and drummer Eddie Moore. Russel and Jeanne continue to influence and inspire a new taiko generation and the wider taiko community


Goh Kurosawa

Scott Yanow (journalist for AllMusic & LA Jazz Scene) expresses:

"International touring musician Goh Kurosawa's music is beyond any simple classification. The guitarist improvises melodically, is open to the influences of pop, rock, flamenco, classical, Latin and Japanese music, and has his own musical identity. Equally skilled on electric and acoustic guitars, he uses electrical devices to create a wide range of sounds yet is not shy to embrace a pretty melody; Goh's set included Bob Marley's No Women No Cry, My Family My Friends (original), a Japanese folk song, and Leonard Cohen's Hallelujah (which he sang)."

Playing at the Homeboy Industries (the largest gang rehabilitation and re-entry program in the world) for Christmas Fest 2021, thus far Goh has completed concerts and music workshops in Myanmar, Brazil, Mexico, Cuba, Canada, France, US, and Japan. Kurosawa has performed at the Zihuatanejo International Guitar Festival in Mexico four times, NHK and Saga Television in Japan, Spring Scream Rock Fest in Taiwan, Asian American Jazz Fest in Los Angeles, LA18 Television, as well as events affiliated with the embassies. On the cover of Pasadena Weekly, album reviewed by JazzTimes Magazine plus other publications, and during the pandemic Goh started Across Waters; an online event for music plus multi-cultural discussions with people from Japan, US, and beyond.
JCA World Music Festival