Bodhi Soundscape Oasis - Sound Healing Ceremony
music performance
~ PAST EVENT
Bodhi Setchko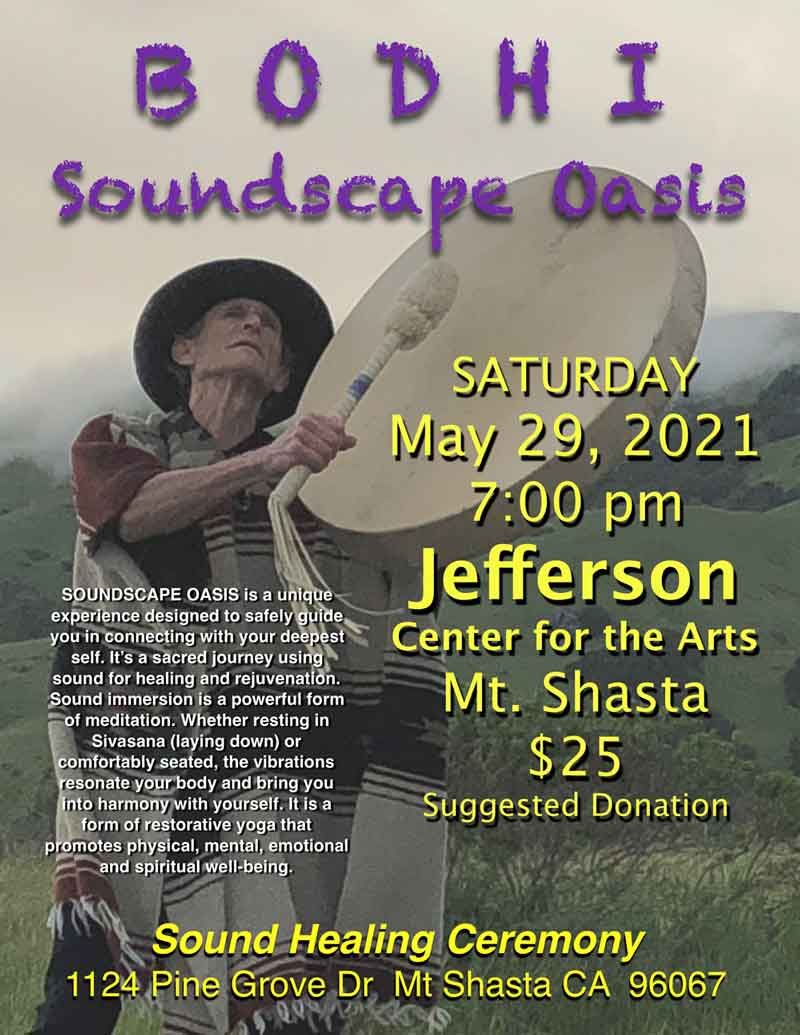 MOVED to University Of Mt Shasta
Saturday, May 29, 2021
7 - 8:30 PM
LOCATION: University Of Mt Shasta, 510 N Mt Shasta Blvd Mount Shasta CA 96067
SOUNDSCAPE OASIS is a unique experience designed to safely guide you in connecting with your deepest self. It's a sacred journey using sound for healing and rejuvenation. Sound immersion is a powerful form of meditation. Whether resting in Sivasana (laying down) or comfortably seated, the vibrations resonate your body and bring you into harmony with yourself. It is a form of restorative yoga that promotes physical, mental, emotional and spiritual well-being.
Flutes,Tibetan Bowls, Gongs, Shells, Shakers & Keyboards.

Bring a yoga mat, blankets, pillow, eye mask, water bottle, etc. to make yourself comfortable. No Scents or Perfume Please.

BENEFITS:
Calms your body and mind
Gives a deep rest to all your body systems
Creates a safe space for life visions to unfold
Helps with: Depression, Insomnia, Anxiety, Deep Relaxation, Health Recovery from Illness, Injury or Surgery
Bodhi Setchko has been working with sound meditation, sound healing and sacred sound journeys for over 40 years. He has studied with Tito La Rosa, Paul Horn, Allaudin Mathieu and many other artists. Around the globe, his music is used in yoga studios, health spas, and health practitioners offices. His music has had millions of plays on Pandora, Spotify and other streaming sites. He has performed and recorded with many musicians, including Jaya Lakshmi, Shimshai, Murray Kyle, Jennifer Berezan, Dave Stringer, Aeoliah, and Ashanna. He offers group and private sound healing journeys for concerts, festivals, yoga classes, meditation groups, retreats and conferences.